Celebrity Wedding Dresses: Top 11 Most Noticeable Gowns
Celebrities, of course, have the craziest, most expensive, top of the line, and beautiful weddings! Check out my top 11 list of favorite celebrity wedding dresses!
Every girl dreams of her wedding day… They can already picture the place it will be held, her whole family being there; she can envision her husband-to-be, but who cares about all that!
The main focus of every daydream is the dress that this life changing event will take place in! Of course, the prices of these dresses aren't even a thought in any girl's mind! The only names that will come into play at this point are Vera Wang, Coco Chanel, and American Express.
Now, although the average working woman more than likely can't afford these styles, we look to the media coverage of every other celebrity's wedding dress for ideas to fall in love with as well as re-create. I have concocted a list of what I gather to be the top 11 iconic celebrity wedding dresses of all time!
11. Madonna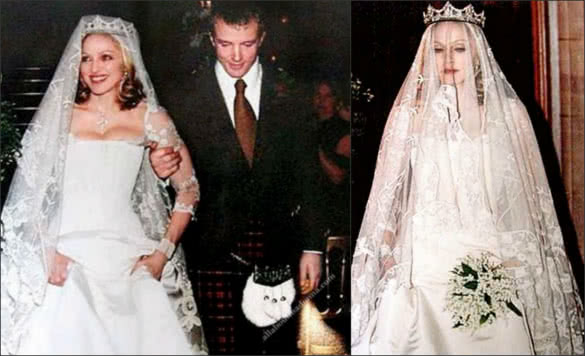 This racy, yet edgy dress was totally Madonna! With its strapless hold and complimenting features, what is not to love? Madonna looked absolutely flawless, and this dress was clearly made for her. With her punk pop flare; this dress was edgy, fun, and just classic!
10. Princess Diana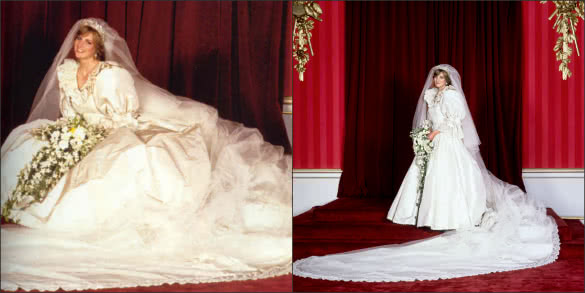 Hello royalty! This unforgettable dress with the mile long train definitely sticks out in my head when I think 'wedding day!'
This early nineteen hundreds feel with an updated eighties flare left every woman with her jaw dropped. Although this dress was not tapered, it still left the viewers to imagine what wasn't there. That is what leaves her at number 10 on our list!
9. Ashley Tisdale
This elegant, modern take on the white dress left me in awe! Aside from Ashley looking positively breathtaking, the semi-short sleeves and tapered to flow-y finish definitely make a wedding dress to be remembered, and this gown has earned her a top spot in our looks to drool over.
8. Elizabeth Taylor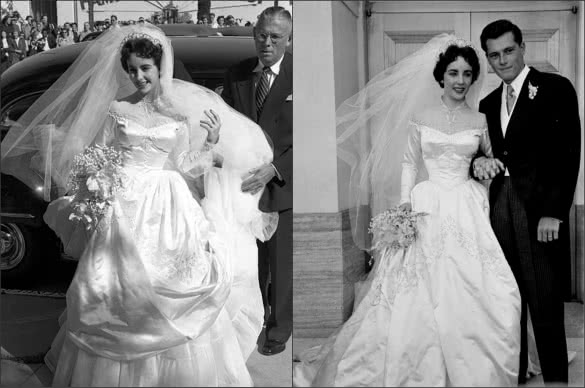 With Elizabeth Taylor's amazing body, it was only obvious that she would choose a dress such as this one to show it off! This dress was very Gone With the Wind meets modern. With its off the shoulder long sleeves, tapered middle, and impressive length, this dress leaves us hating the fact that we weren't there to witness this event in person.
7. Nicole "Snooki" Polizzi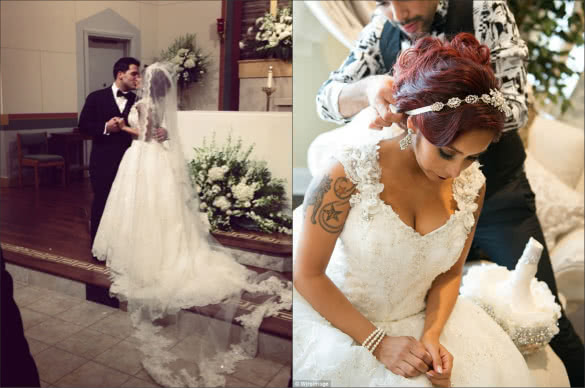 What's not to love about Snooki? Aside from her wild antics and crazy fashion trends from her Jersey Shore days, we now see her in this breathtaking dress. From its flower embroidered straps to its beautifully shaped almost v-neck top, followed by its slightly form fitting to flowed bottom… Nicole looks absolutely gorgeous!
This dress was fun, flirty, slightly Snooki (in a good way), as well as very modern! This leaves Nicole at number seven on our list.
6. Kim Kardashian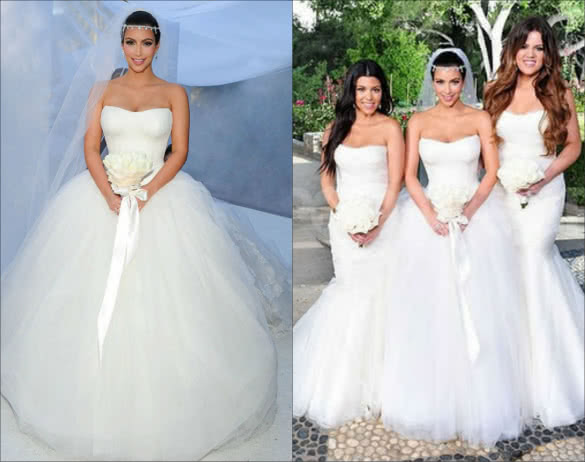 I know what you're thinking, really? But come on, you had to expect she would be on this list, mostly because she's practically had a wedding every year. Secondly, you can't deny, she is pretty fabulous. Or at least, the designer of this dress was for sure!
This dress is your classic Cinderella ball gown! With its strapless presence, amazingly fit center, and excessively flow-y bottom, there's nothing not to love about it! Every little thing about this dress screams, WEDDING! And I mean, come on… it's Vera Wang! It doesn't matter how long your marriage lasts in this case. You will always remember Vera.
5. Grace Kelly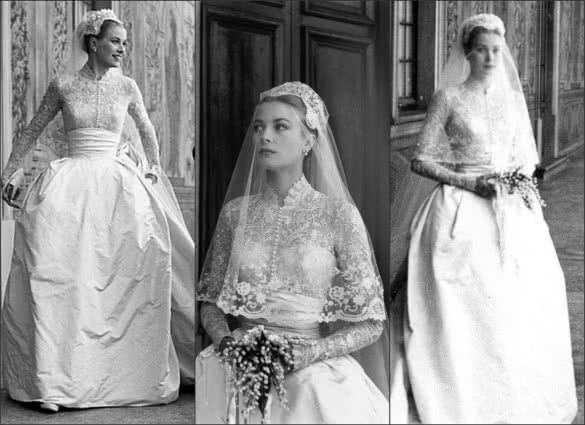 Oh Grace Kelly, how I love thee. Her style was just so graceful. It was very toned down while having a little bit of modern day style to it.
This is an iconic dress, which left the top portion of her body, up until her chest, covered in lace! Once we move past the chest, we see this amazing dress begin to form! The way it clings to her body and accentuates her figure, followed by a flowed bottom, leaves this dress at number five on our list!
4. Lauren Conrad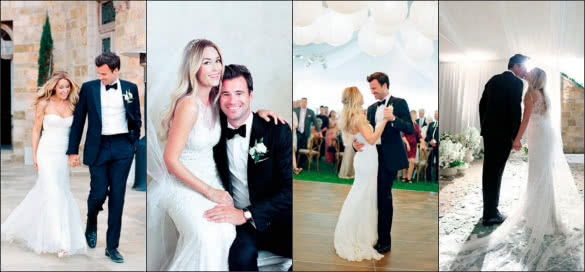 The queen of trends herself is obviously going to be on this list! Not only is Lauren Conrad beautiful, but she found just the right dress to match that beauty!
Her amazing fitted mermaid dress expressed the youth within her, as well as the fun in the dress. Its strapless simplicity and elegance is what made every viewer agree that this dress was, without a doubt, made for Lauren Conrad, and I, without a doubt, will be sending her massive emails to get me a good deal on a dress just like this one.
I will follow this by an email proving that I mean her no harm and I'm not insane, just a fan!
3. Heidi Montag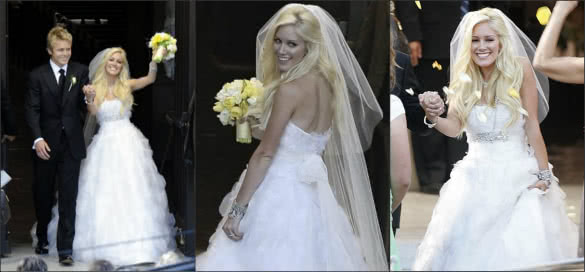 Everyone who has ever seen the Hills or just knows anything about Heidi Montag period knows she's your average Barbie princess! The dress she chose just screamed her personality. With its strapless flare and feathered bottom with a beautiful diamond belt appeal, it's a dress with a fun, flirty look that I would personally want at my wedding.
2. Kate Middleton

This beautiful princess wore a dress that portrayed modern beauty as well as a royal expensive look. With her simple lace long sleeves, followed by a v-neck alluring front and a beautifully tapered yet flow-y bottom, there are no mistakes in this dress.
Princess Kate's dress is one that will not be forgotten anytime soon! It was beautiful, classy, as well as tasteful! This definitely earns her number 2 on our celebrity wedding dresses list.
1. Hilary Duff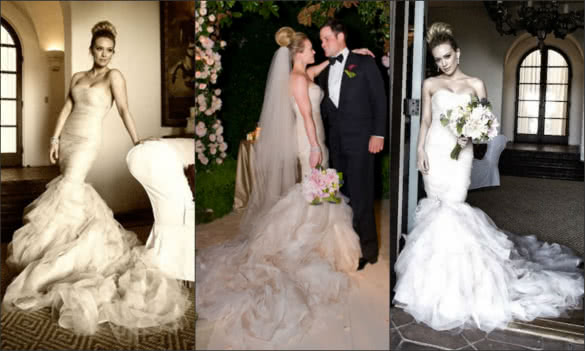 From one Lizzie Maguire fan to the next, I will always be in love with miss Hilary Duff! So, obviously, I was really excited to see that she chose a dress that fit her body perfectly.
This incredible mermaid style dress left viewers drooling over its amazing strapless form-fitting shape! She just looked undeniably gorgeous and this earned her the number one spot on the list of top twelve celebrity dresses.
Each of these dresses were absolutely breathtaking, and I personally wish I could have at least one of these ladies with me when I'm deciding on my wedding dress.
So the question lies, what dress have you envisioned for your future wedding? Are you more of a Kaley Cuoco, who loves her fun flirty colors? Are you maybe more of a Kate Middleton, with her tasteful classic look? Or more of a Hilary Duff, with her mermaid styled form fitted dress?
What was your number one from the list above?