7 Bedtime Beauty Habits to Help You Look Beautiful
It may be tempting to just fall into bed at the end of a long day, but you really can't afford to skip these steps in your pre-bed routine. Trust us: You'll thank us in the morning!
Waking up in the morning and asking the mirror, "How do I look today?" may be the question that starts your day. However, what the answer will be depends on how much effort you put in at night to help you look radiant in the morning.
A fresh look in the morning is something that everyone desires and can help your day start just right. With a dull and gloomy look, you cannot expect to have a vibrant day. For a fresh appearance every morning, maintaining a regular routine is a must. That's why these seven beauty habits are a must before drifting off.
1. No makeup, please!
9 to 5 schedule, excessive workload, late night parties, etc.: I agree; it was really a hectic day, but please don't make it a hectic night for your skin.
It doesn't matter how long the night is, never allow yourself to get into bed without removing your makeup.
Allow your skin to breath after a day's exhaustion. Going to bed without removing your makeup will increase the chances of clogging your pores at night, which results in pimples, acne and other skin problems. The result is that your skin will look dull and messy in the morning.
After a long and chaotic day, nothing will rejuvenate you and make you feel fresher than taking a bath.
A proper refreshing bath not only de-stresses you, but ensures that you sleep soundly during the night. You can use different store-bought body soaps or body washes to clean yourself.
Egyptian queen Cleopatra was known for her beauty and it's said that thousands of liters of milk were used for her baths. I'm not telling you to order lots of milk in order to take a bath, but try adding 3-4 cups of milk and 4-5 tablespoons of honey to a bath for that extra refreshing touch. A few rose petals will only enhance the experience.
3. Moisturize your skin.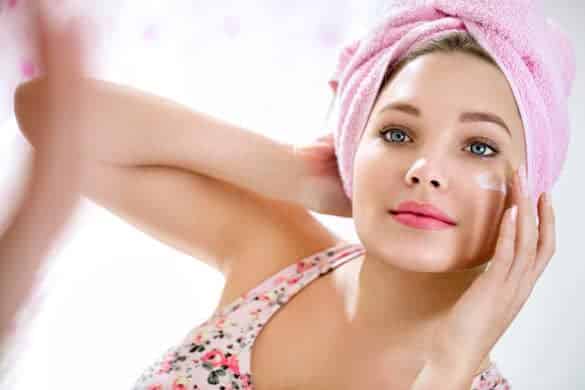 After taking a bath, be sure to moisturize your skin. Always use moisturizer on wet skin as it will help to lock in moisture and keep the skin hydrated. For glowing morning skin, moisturizing is imperative.
Though many options are available in addition to body lotion, body oil, moisturizer, etc., you can also use coconut oil for a long-lasting effect. Don't forget to put a layer of night cream on your face, which will give you a glowing face in the morning.
4. Tie up your hair.
Before heading to bed, tie up your hair. While fastening your hair, make sure it is not too tight. If your ponytail or bun is tight, it will create pressure on the hairline and, eventually, you may lose your hair. Leaving your hair undone at night is not a good idea as it will make the hair more tangled and will ensure a messy look in the morning.
5. Don't ignore those rosy lips.
Dry, chapped and cracked lips can ruin all of your beauty efforts. To have a naturally glowing face, equal attention should be given to the lips, too.
Make a homemade lip balm with Shea butter. Mix a few drops of rose essential oil along with Shea butter to make a smooth, homemade lip balm for your rosy lips. Apply the balm at night, leaving it on overnight. The beautiful smell of the lip balm will add extra charm to your morning beauty.
6. Whiten your teeth.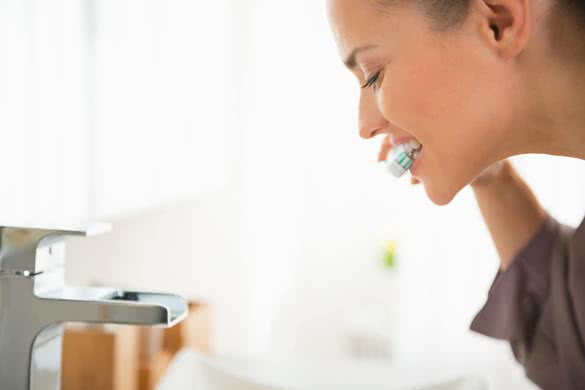 Imagine your perfect morning look ruined by a set of yellow teeth. Is this acceptable? Of course not. A beautiful smile can make your day. A set of yellow teeth will take away the beauty of your smile. So, it's our duty to remove the yellow shades from our teeth.
You can use whitening toothpaste or baking soda to whiten your teeth. Choosing a whitening agent is up to you, but, you have to use it daily if you really want to have a whiter and brighter smile.
7. Sleep.
Last but not least, these beauty tips can only work if you have sufficient sleep at night.
For a splendid look in the morning, no compromise should be had with sleep. Eight hours of sleep each night will not only give you glowing skin but will increase the functionality of your digestive system, which is directly connected your appearance. So, be sure to get eight hours of sleep before anything else.
Looking beautiful is everyone's dream and like any dream, this demands effort and dedication. Maintaining these seven bedtime beauty habits will help to start your day better. Your mirror will speak on your behalf. Don't forget to remain happy and positive throughout the day with a smile on your lips.
What other bedtime beauty habits or tips do you have? Our readers would love to know.